SAVE ME!!!
This article is in need of dire help. You can correct this by helping it.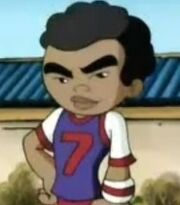 Jermaine is a kid from New York who becomes friends with Omi. He is skilled at basketball and later goes on to become a Wudai Warrior-level Xiaolin Monk, eventually quitting.
Appearance
Jermaine is mostly seen wearing his red, white and blue number seven jersey with his red trousers. He has a small afro and small black eyes, and very thick eyebrows. When not wearing his jersey outfit he is in his Xiaolin monk outfit similar to that of Omi, Kimiko, Raimundo and Clay.
Personality
Jermaine is a streetwise, laid-back, relaxed kid but who is very good at physical activity when he needs to be. He is a good and loyal friend but can be become angry when pushed too far, such as when Omi doesn't treat him very well because he is jealous of his achievements.
Role in the show
Jermaine is first seen in the episode "My Homey Omi" where the Xiaolin Monks travel to New York to find the Serpent's Tail. When Omi gets lost he runs into Jermaine and they become friends. When Omi does find the Serpent's Tail he reaches it at the same time as Jack Spicer. Spicer declared that the showdown would be a game of basketball. Omi is joined by Jermiane who helps him win. After they win Omi offers Jermaine a place at the Xiaolin Temple.
He declines but we later see Jermaine return to the Temple in "Something Jermaine" where he has attained the level of Wudai Warrior, the same level of Omi, which causes him to become very jealous. This drives a wedge between the two. Omi soon figures out that Chase Young has been the one training Jermaine, although Jermaine has no knowledge of Chase being evil. Later on in the episode Jermaine, Omi, Jack Spicer and Tubbimura compete in a Xiaolin Showdown for the Golden Finger. Tubbimura and Spicer are eliminated first leaving Omi and Jermaine to fight. But Omi reveals Chase Young's true nature to Jermaine and says he will not fight him. Jermaine realizes what's been going on an agrees not to fight Omi. The two patch things up and return to being friends.
Abilities
Master Martial Artist: Jermaine was trained by the very own Chase Young and achived the Wudai Warrior rank way before Omi and the rest of the monks. He was abe to use Repel the Monkey, Chase's signature move
Water Walking: Some how he was able to walk on water.